PREMIUM STARTER KIT W/ NINGXIA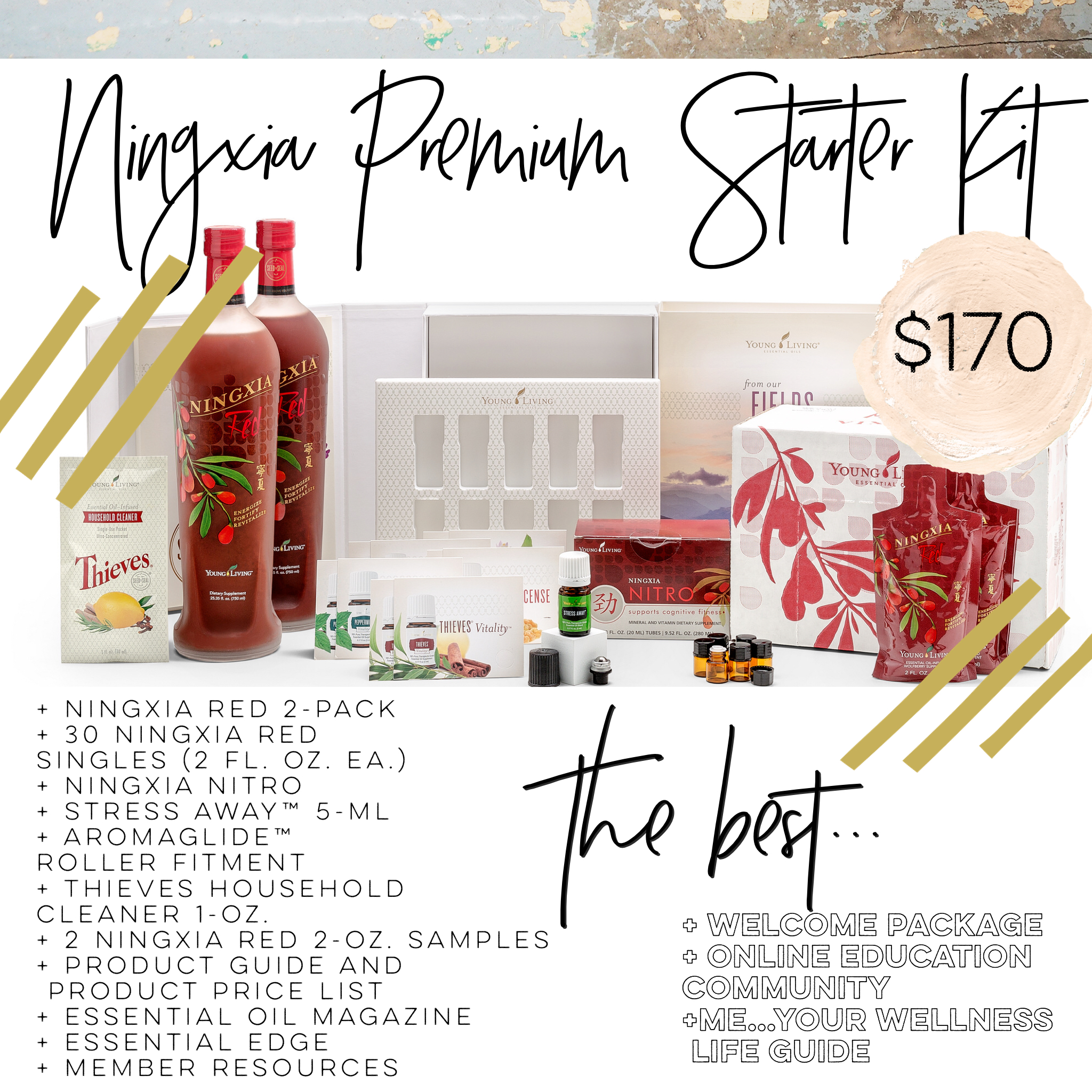 Your Starter Kit includes:
NingXia Red 2-pack

30 NingXia Red Singles (2 fl. oz. ea.)

NingXia Nitro

Stress Away™ 5-ml

AromaGlide™ Roller Fitment

Thieves Household Cleaner 1-oz. sample

10 Love It? Share It! Sample Business Cards

10 Love It? Share It! Sample Oil Bottles

2 NingXia Red 2-oz. samples

Product Guide and Product Price List

Essential Oil Magazine

Essential Edge

Member Resources
MEET THE ANSWER TO YOUR DAILY IMMUNE SYSTEM NEEDS…
Power your life with a delicious blend of nutrient-rich wolfberry puree, superfruit juices, and pure essential oils. Formulated to support wellness for every lifestyle, NingXia Red® is a unique, powerful drink that will help you make the most of every day. This Starter Kit includes favorite NingXia Red products, including our top-selling cognitive fitness booster, NingXia Nitro™!
How to get started with the Ningxia kit:
1. Click link above and Choose "Member" - this is how you get the starter kit and your 24% discount on any additional oil purchases.
(Don't click "retail" - this is important. No starter kits here, and you pay more. NO THANKS.)

2. Sponsor + Enroller
The number here should be the person's number who introduced you to Young Living :)
Stop! If you were referred here by a friend, you will want to enter their numbers when you click on the above link. Otherwise the default number of 12704720 belongs to me, Christy Beasley! If you accidentally sign up under me, shoot me an email, christybeasley52@mac.com, with the name and e-mail of your friend that referred you and I'll get it fixed right up for you.

3. Choose Ningxia Starter Kit
4. Essential Rewards! This is not required, but it ROCKS and it it a super fun and affordable way to start kicking the toxins out of your home and replacing them with safe options. You'll earn money back on every order and tons of freebies! Select your PSK, then click the box below, reading, "Use the selected Premium Starter Kit as my first Essential Rewards order and sign me up for an Essential Rewards subscription."
If you do it this way, you'll get a free 5ml oil and $10 back from YL in ER points (store credit🙌🏻). And it won't cost you anything extra today. So it's the best. ER is the best way to start swapping out stuff you're already buying with healthier options.
Confirm your monthly order and it's smooth sailing from there!